As a Sales representative, your role will have a significant impact on the growth of Blueberry as a whole. We are scaling at a rapid pace and it is important for us to find candidates who are experienced but still embrace a challenge, are eager to learn, and have the passion to be successful.
What to expect
Qualifying leads, discovering clients' needs and closing business in tandem with senior developers
Responsibility for driving upsell
Developing and maintaining strong relationships with the client's decision makers
Partially prospecting for new business opportunities and introducing them to the Blueberry
What you should know
2-4 years of professional sales closing experience, preferably in software development and/or digital marketing
Fluent written and spoken English, because we have clients all around the world
How to present to C-level executives and communicate with corporate management
How to discover, understand and consult the customer's pains and problems
A results-driven attitude, having the desire to consistently achieve goals
What we offer
Commission from the closed volume of orders
The opportunity to attend various business conferences—even abroad
Investing 10% of your working time to self-study
A Native speaker who will be there to help you to fire up your English skills
A chance to deepen your interpersonal skills on our internal soft-skill workshops
As our new Sales representative, you'll become a part of the fearless business team, which is game for everything (you can look forward to team building). We have clients from various business sectors and countries, so every project is different. There are already more than 100 of us in Blueberry and we keep growing every month, both with people and furry friends in our pet-friendly office. Our fridge is full of Ugo, maté and other good stuff—we're not going to leave you starving. You can increase your daily intake of vitamins with fresh fruit and vegetables. Do you know that we have a lot more perks here at Blueberry than just that? Find them all out here. Sound good? Get in touch with us!
Who you'll work with
Michal Šusták Business Developer
Business developer by day and hedonist by nature. Seeking hot stuff for our dev team.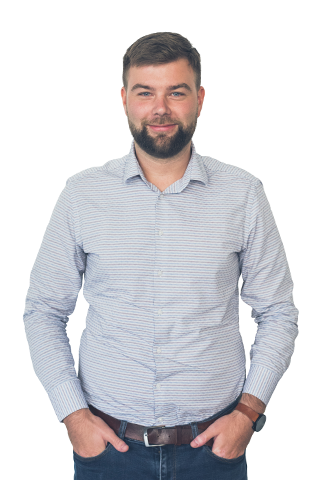 Projects we've worked on
We approach the client as a partner and provide a full service. From strategy, PPC and SEO through to online reputation management. Rigid processes are no fun for us, though, which is why we're not afraid to cross boundaries and experiment with each project so that both we and our clients continually move forward. We can create a love brand out of a project that certainly doesn't look like one at first glance. And that's what we enjoy.
Interested? Shoot us a message