Blueberry is looking for new reinforcement at reception! If you want to fill your time working in a friendly environment where is no lack of fun, where you can use your foreign language skills and be surrounded by friendly teammates (puppies included), then we are just what you're looking for!
What to expect
Primarily you will make sure everything at reception is running smoothly. What is it all about? One part is the administrative work, where you'll be picking up the phone from time to time, greeting our clients and making a cup of coffee for them, or taking care of mail. The second—and maybe slightly more interesting—part, is creating a pleasant atmosphere for the office and making sure that everything is tidy. The best thing is that you can transform yourself into a professional table foosball player if you want to, a street artist of our chalkboard to free your spirit a little, the head of pupper cuddling department, or the leading DJ of our mixing console. Anything you like!
What we offer
Thanks to the strategic position of reception, you will have the opportunity to be in daily touch with all the Blueberry members. There are already more than a 100 of us, and we keep growing every month, both with people, and furry friends! You will cooperate mainly with our Office/Happiness manager Janis, who is in charge of both our good mood and also the reception. Don't worry, we are really into a self-growth here at Blueberry, so there is a significant chance of moving forward and developing other skills. We are a laid-back company, so there isn't any dresscode. The only thing we want you to wear is a big smile on your face!
Who you'll work with
Jana Pekárková Office Manager / Happiness Manager
I make sure that reception is running smoothly and trying to keep everyone at Blueberry happy—my dog Wifi helps me with that :).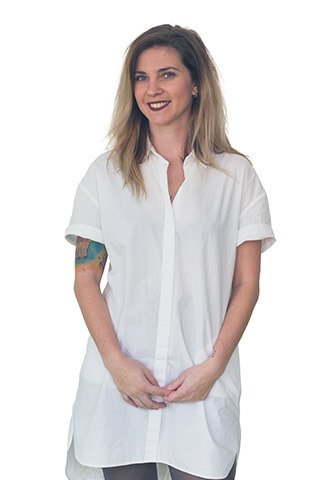 Projects we've worked on
We approach the client as a partner and provide a full service. From strategy, PPC and SEO through to online reputation management. Rigid processes are no fun for us, though, which is why we're not afraid to cross boundaries and experiment with each project so that both we and our clients continually move forward. We can create a love brand out of a project that certainly doesn't look like one at first glance. And that's what we enjoy.
Interested? Shoot us a message