As a business developer, your role will have a significant impact on the growth of Blueberry as an agency. We are a communication agency in the midst of a huge transformation from a digital specialist into a full-scale marketing and communication partner for clients from various fields and countries. Don't expect boredom, expect turbulence.
If you've ever been responsible for building relationships with clients, getting their feedback constantly and if you've ever been a strategic partnership between the marketing team and client side for at least 3 years, then let's have a chat!
What to expect
Identifying potential opportunities based on own experience and Blueberry market segmentation
Actively searching for upsell/cross-sell opportunities within clients
Involving account managers into qualified leads, so they can take over the project when the contract is signed
Cooperating with strategic management to develop business strategy and Blueberry product
What you should know
Minimum 3 years of professional marketing sales experience, preferably in an agency or consulting
Basic understanding of our core markets – industry, ICT, health & food, finance and retail, B2B or B2C
How to identify client needs, reserves, potential in relation to the entire company portfolio
How marketing agency works, ability to recommend way of presentation, fine-tuning of our product
Fluent spoken and written English to confidently handle emails and calls with prospects all around the world
What we offer
Personal remuneration model in direct relation to secured sales
Working with interesting clients - ŠKODA AUTO, Nestlé, ACO
The opportunity to attend various business conferences—even abroad
Marketing incubator - chance to try a different team role on a small project and learn something new
Game room for taking a break from work (foosball, table tennis, Xbox)
As our new Business developer, you'll become a part of a team, which is game for everything (you can look forward to our teambuilding). We have clients from various business fields and countries, so every project is different. We keep growing every month, both with people and furry friends in our pet-friendly office. Our fridge is full of organic fresh juices, cold caffeinated beverages, and other good stuff—we're not going to leave you thirsty. You can increase your daily intake of vitamins with fresh fruit and vegetables. Do you know that we have many more perks here at Blueberry than just that? Find out about all of them here. Sounds good? Get in touch with us!
Who you'll work with
Lucie Doubicová Project Manager
I am a project manager who enjoys the adrenaline of new challenges, traveling and good food. I am also an online shopping enthusiast, who owns an online store with dog merchandise. And yes, I am one of those marketing geeks ;).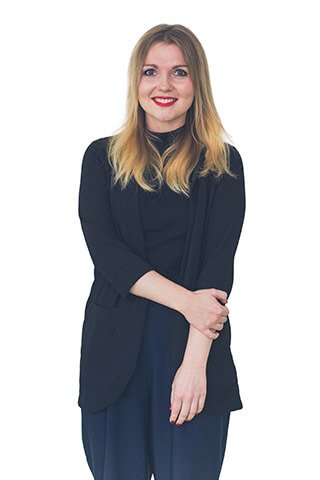 Projects we've worked on
We approach the client as a partner and provide a full service. From strategy, PPC and SEO through to online reputation management. Rigid processes are no fun for us, though, which is why we're not afraid to cross boundaries and experiment with each project so that both we and our clients continually move forward. We can create a love brand out of a project that certainly doesn't look like one at first glance. And that's what we enjoy.
Interested? Shoot us a message