Do you want to be an essential part of the marketing team, and to ensure smooth cooperation with our clients as a Junior account manager? We are now looking for a reinforcement to Blueberry that will take care of the smooth functioning of our projects and also help to ensure that our clients feel as if they are in cotton. If you can listen to the clients and the team, and you're capable of finding the right solutions so everyone is happy and the job is completed in time, do not hesitate and come to create better digital worlds with us. We will spoil you in return.
What to expect
Building and maintaining relationships with clients both new and existing
Responsibility for delivering results that are up to standard and not exceeding the set budget
Regular meetings, workshops, brainstormings both with the client and the team
Co-creating a marketing strategy, and creative thinking
Checking the tasks you set to the team on behalf of the client
What you should know
Organising and ability to keep an eye on the deadlines in your calendar, as well as in your team mates calendars
You will definitely use communication and presentational skills (not only at client meetings)
Maintain a cool head, as some of the clients' demands can shake even the biggest professionals
English, because you never know where your next client is going to be from
What we offer
The possibility to dedicate up to 10% of your work time to self-study
Regular internal soft-skills workshops
An opportunity to organise marketing meetups, if that's what your heart beats for
A laid-back environment and cosy spot even for your doggo
A space for executing new ideas and trying new roles in our Blueberry incubator
Multisport card to keep in shape!
If everything goes well, you will become a member of our digital marketing team and work closely with Karel, Štěpán, and Lucka, contributing to the progress of client projects. Our marketing team is a bunch of crazy individuals with an edgy sense of humour, so it will be fun! We have clients from various business fields and countries, so every project is different. We keep growing every month, both with people and furry friends in our pet-friendly office. Our fridge is full of organic fresh juices, cold caffeinated beverages, and other good stuff—we're not going to leave you thirsty. You can increase your daily intake of vitamins with fresh fruit and vegetables. Do you know that we have many more perks here at Blueberry than just that? Find out about all of them here. Sounds good? Get in touch with us!
Who you'll work with
Lucie Doubicová Project Manager
I am a project manager who enjoys the adrenaline of new challenges, traveling and good food. I am also an online shopping enthusiast, who owns an online store with dog merchandise. And yes, I am one of those marketing geeks ;).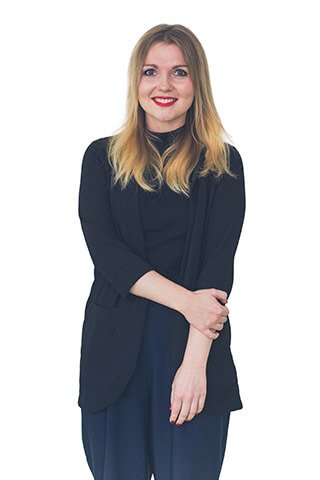 Projects we've worked on
We approach the client as a partner and provide a full service. From strategy, PPC and SEO through to online reputation management. Rigid processes are no fun for us, though, which is why we're not afraid to cross boundaries and experiment with each project so that both we and our clients continually move forward. We can create a love brand out of a project that certainly doesn't look like one at first glance. And that's what we enjoy.
Interested? Shoot us a message